Invisa Cookware - The cookware for the invisible induction hob

The InvisaCookware is specially designed to perform to the Highest Standards, through its Marketleading-Technology it is more effienet than any other Cookware. With durable non-stick surfaces that challenge even the most rigorous of professional expectations, it features a naturally scratsch-resistant surface that allows your to continue using metal utensils.
In other words, you will never need another pan when you purchase our Professional-Grade-Non-Stick InvisaCookware.
Invisacook cleaning and care products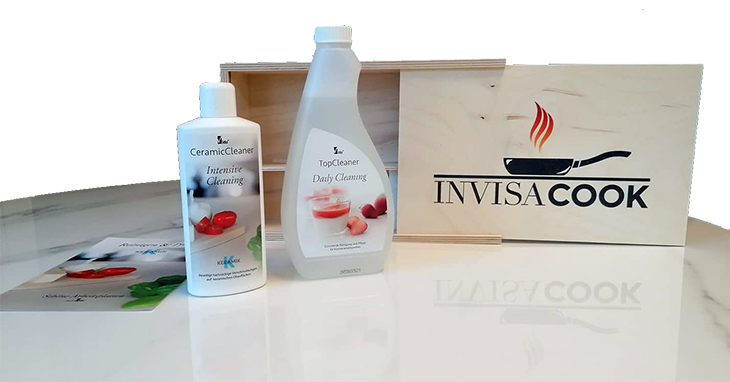 CeramicCleaner
The worktop is heavily used during cooking and preparation. In order to maintain the longevity and beauty of your ceramic worktop, it requires special cleaning and care. Depending on the type, a wide variety of cleaning methods are used, which should be taken into account.
For minor soiling, a little TopCleaner and a soft cloth are usually sufficient. With TopCleaner, simple everyday dirt can be removed easily, hygienically and without leaving streaks. It cleans and cares for all kitchen surfaces at the same time.
For more stubborn dirt, we recommend using a small amount of CeramicCleaner. CeramicCleaner easily removes stubborn dirt on ceramic surfaces. With the help of microparticles, CeramicCleaner dissolves and removes layers of oily and greasy dirt, light limescale residue, dried-on food contamination and metal abrasion from pots and knives.